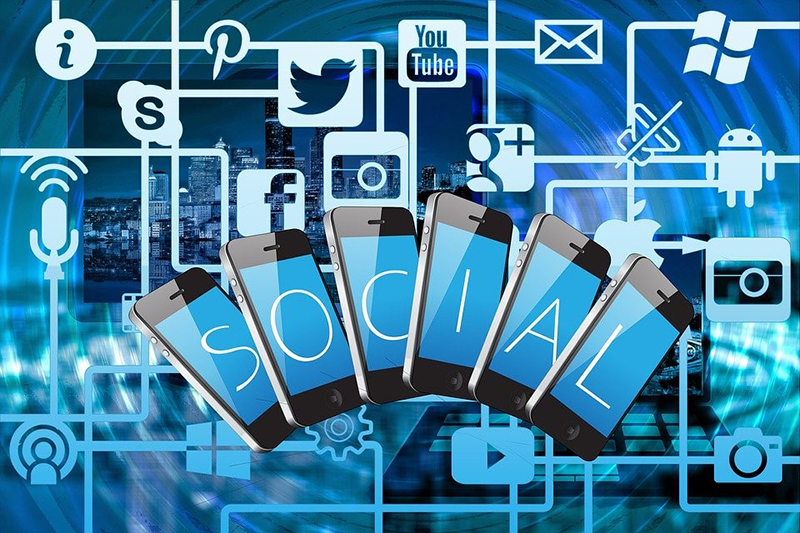 Digital marketing specialists have been debating for a while now on whether social media affects search engine optimization (SEO), and if so, to which extent. The majority of them claim that social signals, such as retweets, likes, and pins, don't directly influence SEO. Nonetheless, they agree that social networks can indirectly help boost the rankings. How so?
The overall goal in marketing is to increase leads and enhance sales. The more people visit your company's website and check out its content, the more opportunities your business has for development and growth. This is where social media comes into play. Active profiles on different social networks containing engaging and unique content will resonate among the existing customers and attract potential ones. If the content is compelling enough, they have no other choice than to click or even share it for others to see.
Checking out the company's profile on Facebook or Instagram allows the consumers to familiarize themselves with the brand's authenticity. Ultimately, they will visit the official website to get more details on the brand. So, social media not only complements SEO because it helps generate more traffic to the website, but also because it boosts ranking in search engines.
Nowadays, people don't have to use only search engines to look something up on the Internet, because social networks offer a highly advanced search option. Thus, they serve as search engines as well. Needless to say, for this marketing strategy to work out, the content on the profiles on social media and the website should follow the same level of optimization.
Increased online visibility leads to brand recognition. As the majority of people spend their time on Facebook, Twitter, and Instagram, these social networks are the ideal place for marketing and building brand awareness. They offer many opportunities, and one of them is partnering with some well-known influencers whose beliefs align with your brand's values. Furthermore, social networks also serve as a great communication channel. Not only can they be used to establish new relationships and collaborations, but also to maximize chances for link building.
Equally important is the increase in domain authority through links and reviews. Sharing the links of the page surely boosts traffic, but comments, reviews, and ratings are useful too as they allow customers to determine the brand's credibility and quality. Search engines such as Yahoo and Bing include reviews from social media to provide a more comprehensive experience for the user. If you focus on offering first-class service or high-quality products, customers will be satisfied and leave positive reviews on your social media page. Positive reviews and high ratings can only mean one thing — a high value of your business. Hence, Google will position it higher in the rankings.
Another valuable asset of social media is its ability to prolong the content's lifespan. The lifespan of a blog is limited, as it largely depends on search engines and their ranking positions. Hundreds of thousands of new blogs and blog posts arise every day on the web, so it is difficult for the customers to find your content all by themselves. One cannot expect them to scroll back 15 pages to find what they are looking for. However, that isn't the case with social media. All it takes to revive some content on social networks is to simply repost it. Reposting is a great opportunity for not only extending content's life but also for allowing potential customers to discover your brand for the first time.
Finally, social media plays a key role in local SEO. This is particularly significant for small businesses. Namely, there has to be some consistency when it comes to NAP (your business' name, address, and phone number) and business listings. It is important how these details are presented across the web. Your social media profiles should provide accurate information about your address, hours, phone number, and services which must be consistent on all platforms. Similarly, if the platform allows it, why not use the geotag option and tag posts and stories. It will improve your online visibility on a local level and help target audience more easily and efficiently.
Overall, social media can be used as a powerful tool to complete SEO and fulfil the aims of a selected marketing strategy. Creating profiles on relevant social networks and actively posting interesting content drives traffic. More traffic results in higher rankings in search engines. Besides, reviews and ratings of your services and products can also rank you higher. The more visible your business is on the web; the more people will start recognizing your brand. Also, reposting content broadens its distribution and prolongs its lifespan. Lastly, local SEO can only benefit from the use of social media as it promotes the business locally.
Sources
https://adespresso.com/blog/how-social-media-impacts-seo/
https://blog.hubspot.com/blog/tabid/6307/bid/14624/7-ways-to-integrate-search-engine-and-social-media-marketing.aspx
You may also like: SEO vs. PPC: Which One Suits Your Business the Most?
Image source: Pixabay.com