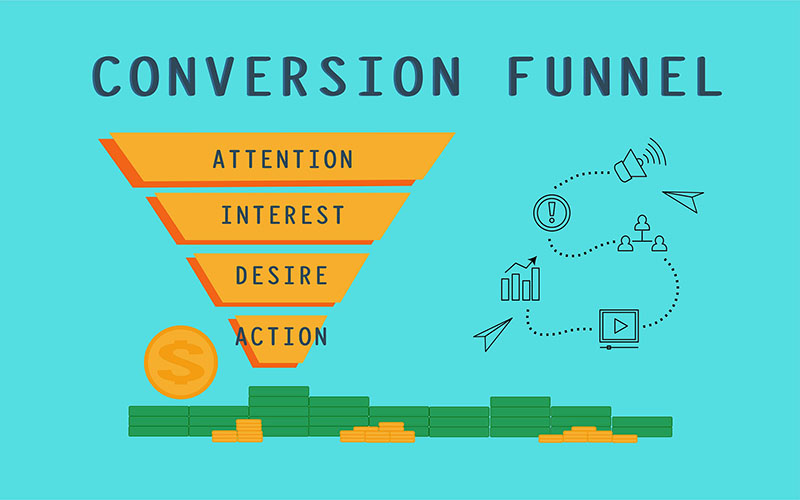 What is a conversion funnel? How to make one that pays off in the long run? This is something everyone in retail and beyond wants to know. The reason behind their enormous interest is that the funnels drive engagement which ultimately leads to increased revenue.
Simply put, a conversion funnel is just a picture of the process a buyer goes through, from visiting the website to buying products. Often, a prospect leaves the website without making a purchase. A marketer's job is to prevent that from happen hence the funnel. To make sure prospects end up making a purchase. Since there is no guarantee the funnel will be rewarding, here are some steps you can take to make sure it pays off in the long run.
Formulate The Objectives
For marketers, funnels serve to boost conversions, and this is something they have to work hard on because not every visit to the website ends with purchase and conversion. To boost conversions, you have first clearly to define the objectives with an ultimate goal in mind. Thinking about the current state of the customer's journey, necessary improvements and actions, as well as the end goal is enough to get you started. Now you can move to the next phase.
Divide The Process into Stages
Funnels usually consist of three parts — top, middle, and bottom. When creating your funnel, you should follow this structure and divide the process into stages. Think of a goal for every stage. For example, you might first want to build up the traffic, boost the engagement, and then the conversions. Whatever your goals are, you have to make sure to reach them because all of them together will make reaching your ultimate goal possible. For this reason, you might want to use analytical software to track your progress.
Prepare Content for Every Step of the Way
All three parts of the funnel demand a specific marketing campaign for prospects to go through and make a purchase in the end. The top stage usually requires raising awareness. The most effective way to attract prospects is by visual and SEO-optimized content across platforms such as blog posts and videos. Such content exposes the brand making its message stick with prospects for some time. Now that you have their attention, you have some serious convincing to do. At this point, you have to give your all to create informative and engaging content such as tutorials, infographics, etc. In the final stage, you should focus on calls to action, free trials, or even discounts for the buyers.
Stimulate Interest
Stimulating interest is the key to creating a profitable conversion funnel. The way you can do this is through engaging content. Content is just a little push they need to put their trust into your brand. However, creating engaging and compelling content isn't always easy. You have to know your audience to give them the content they need. The audience usually wants informative and useful content. So that is what you should give them. Create tutorials, case studies, guides, or videos and show how the product does the job. When prospects recognize the content as valuable, they will be more inclined to buy the products.
Retain Customers
Attracting customers isn't the only imperative in marketing, so is retaining them. To retain loyal customers, you can use various strategies. For example, retargeting or next-selling can convince them to make another purchase, this time with a discount. Also, it would be useful to create loyalty programs, but you have to be extra creative because such programs aren't a novelty in the marketing world. Giveaways, competitions, or exclusive offers also seem like a good idea. When it comes to retaining customers, you should know there is no winning combination. You just have to monitor their preferences and buyers' habits.
Look into Problems
You can aim for a perfect conversion funnel, but the truth is, it doesn't really exist. Nonetheless, you can fix the funnel if it isn't performing the way you want it to. The reasons for its underperformance are many, from misreading the data, starting out with too strong CTAs, to getting caught up in too many stages. All it takes to fix the problem is a simple look at your analytics. In case the problem persists, you can reach out to prospects and survey them on their user experience. Then you can use their answers to refine the funnel if necessary.
On the whole, think of the conversion funnel as a tool to provide a great user experience. This way, prospects won't have another choice than to become one of your loyal clients.
You may also like: Challenges in Marketing your Business Online
Image source: Pixabay.com