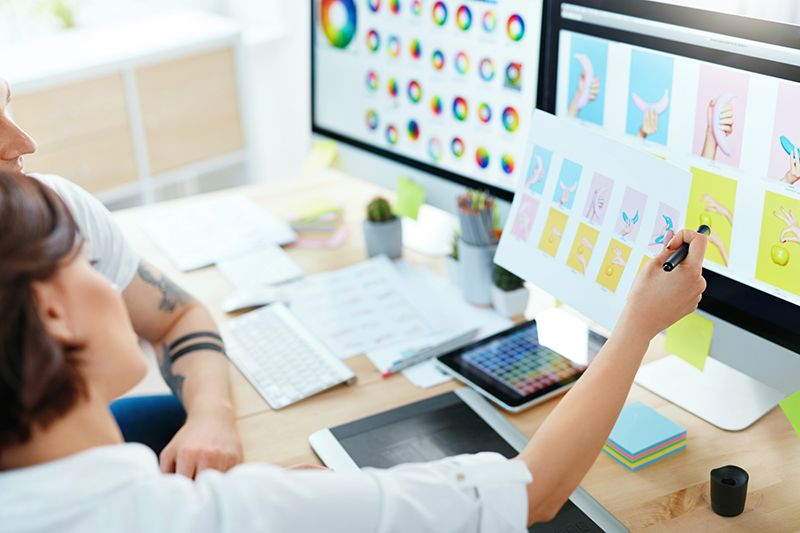 Most of us know that text-based content isn't as effective now compared with those with visual images or animation. Visual content is so powerful that it is 40 times more likely to be shared on social media. Apart from that, it also gets 94% more views. Graphic images also increase audience engagement, which is a good strategy in social media marketing.
With the use of design tools and working with people with a great eye for design, you can increase the effectiveness of your visual appeal. You can turn from relying on stock photos to posting custom-made content images. In designing a social media graphic, you have to check the following elements: image quality, font and colour variations, text and background, and balance.
Utilise a branding guide
Color and fonts matter. Your font variations and colour palette can make or break your social media graphics. These two are the key elements for your style guide in creating your social media designs and creating consistency will help your brand to get recognised by your audience. Choosing one that suits your brand is important. Apart from that, it must be easy to read and not contradict the message you want your audience to perceive.
Also, take note that your social media graphics shouldn't be overcrowded. Learn how to balance the text and elements used and create variations by changing the sizes to highlight the important notes. Only add necessary elements and avoid unnecessary clutter.
Select the right platform
Your designs should be based on the social platform you are going to use. Different platforms have different image size requirements. Instagram, for example, favours a square format, while Twitter (now X) uses a rectangular format. It is also worth knowing each platform's design specifications. If you are going to use LinkedIn, opt for a more formal mood with few elements.
Create a set of designs
Creating designs by batch that you will use for your content will help you save time and effort. Doing this according to your brand kit will also show your consistency and boost creativity. Set a time to do social media graphics alone. Leave the caption writing and hashtag research for later and focus on just creating the images you'll be needing for the week.
Add a call-to-action
Yes, you can still create a call-to-action on your social media graphics. If you want to increase your followers, you can type in "follow for more" or "see link in bio" to your images. Make it clear and compelling, but also determine if it is applicable to add to your post. If you're merely sharing a quotation or Monday motivation, you may skip this part and use it for other content instead.
As you create your social media graphics, it is significant to outline your objectives and specific requirements you need to make this an effective tool in connecting with your audience. Ensure that every graphic is aligned with your goals and represents your brand appropriately. Use the right image size and format and make your posts stand out by using high-quality images and identifying what works best.
You may also like: Stop Creating Boring Content: How to Get Your Audience Hooked and Interested on Social Media
Image source: stock.adobe.com